Enables accurate, trustworthy, and efficient, prediction solutions
Skyward goes beyond traditional black box machine learning with explainability methods to create user insight and trust in the algorithm predictions.
Algorithms and tools with explainability, not black boxes
Custom solutions to make sense of big data sets
Trusted solutions and insight to detect vulnerabilities
Complex Systems Need Advanced Monitoring
Do you make or use complex systems that are difficult to monitor or frequently fail?
Skyward specializes in real-time anomaly detection that can monitor your complex systems and let you or your customers know something is wrong before it's too late.
One of Skyward's anomaly detection efforts is helping the Navy detect potential vulnerabilities associated with aircraft flight behavior. See below!
Skyward's ADONIS ADS-B is an anomaly detector which monitors the surrounding airspace to identify anomalous aircraft behavior indicating aircraft intent or airspace disruptions
Supporting military and homeland defense operations

Portable enough to carry in a backpack or deploy on UAS platforms


Comprehensive enough to support a Navy ship network

Powerful enough to monitor a 70+ mile radius (15,393 mi2)
Enable better situational awareness, longer response time, safety, and security
ADONIS (Anomaly Detection ONboard Identification System) ADS-B detectors combine hardware and software solutions and can be carried in a backpack or deployed on stationary or mobile platforms to lower vulnerabilities related to anomalous aircraft behavior.
Key Features:
Scalable: ADONIS detectors are scalable for platforms ranging from an Unmanned Aerial System (UAS) to a ground control station.
Many Types of Anomalies: Machine learning based anomaly detection technology detects aircraft group and individual flight anomalies.
Aircraft Corridor Detection: Includes a tunable airspace corridor detection tool that can identify dynamic airways.
Visualized: Anomalies and Corridors can be visualized for easy analysis and integration with other sensor data.
Why: Skyward's ADONIS detectors tell you why airspace or flight behaviors are anomalous.
Improves Over Time: Data collected by the detector can be used to retrain it and improve performance over time.
Find what you're looking for
(even if you haven't seen it before)
Do you need to locate anomalies (e.g. search and rescue efforts, oil spill identification, unexploded ordinance) in EO, IR, MSI, HSI or other forms of imagery? Skyward specializes in creating anomaly detection solutions from limited training data.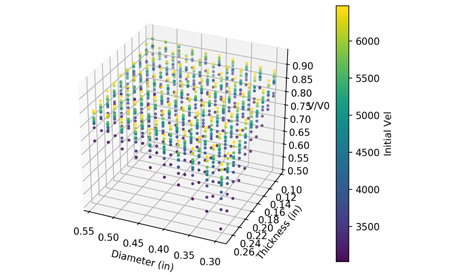 Model Complex Noisy Data
Do you need a faster, less computationally expensive, and more robust model than your traditional engineering model or curve fit?
Skyward specializes in developing machine learning models for engineering applications.
Custom Analysis Tools and Machine Learning Based Tools
If your analysis workflow is cumbersome or costly, Skyward can create a custom workflows or tools to help you get more timely and affordable answers.
Trustable Machine Learning
Do you want to better understand machine-learning predictions so you can make educated decisions? Skyward can help you to create machine learning solutions that provide cohesive and human understandable results