State of the Art Services
Skyward performs a variety of affordable 3D services to help customers solve problems related to new part development, redesign, reverse engineering, inspection, damage characterization, preparation for rapid prototyping and 3D printing, and archival of vital designs. We apply state-of-the-art 3D scanning technologies and 3D applications to meet your needs quickly and accurately. Contact us to discuss your need or request a quote. We can arrange for a convenient web conference to gather requirements and make the process simple for you.
Support government and private industry
Experience with a number of 3D scanning, analysis, and design tools
Custom simulation workflows
3D Scanning & Metrology Services
Skyward can capture 3D images and post-process for 3D printing, inspection, and a host of other requirements.
We utilize a variety of state-of-the-art 3D scan technologies (i.e. short/long range, portable handheld, blue light, white light, laser, etc.) and in-house expertise to acquire high resolution/high-fidelity scan data of a wide range of physical objects, varying in both size and complexity. Skyward is an approved Artec 3D service provider, providing service in Dayton, OH and surrounding areas.
Skyward can scan objects from small electronic and mechanical components up to automobiles, military combat vehicles, aircraft, ships and buildings. Skyward can use 3D scanning for full dimensional component, prototype, and first article inspection; reverse engineering of obsolete parts; aging aircraft and automotive historical restoration; engineering design and materials analysis; artist model creation; archeology preservation; and gaming, animation, videography/cinematography, rendering, etc.
3D Scanning Workflow:
Multiple scans are captured of an object or surface with extra emphasis on complex or complicated areas. The scans are aligned and registered to create a single 3D point cloud. Fusing scans together produces a triangulated mesh, which can be edited and optimized for a variety of post-process applications, including full dimensional inspection and CAD geometry creation. Finished scans can then be exported for rapid prototype 3D printing using emerging additive manufacturing technologies.
We use a variety of 3D scanning tools, including:
Artec Eva

Artec Spider

Surphaser

Breuckmann Smartscan/StereoSCAN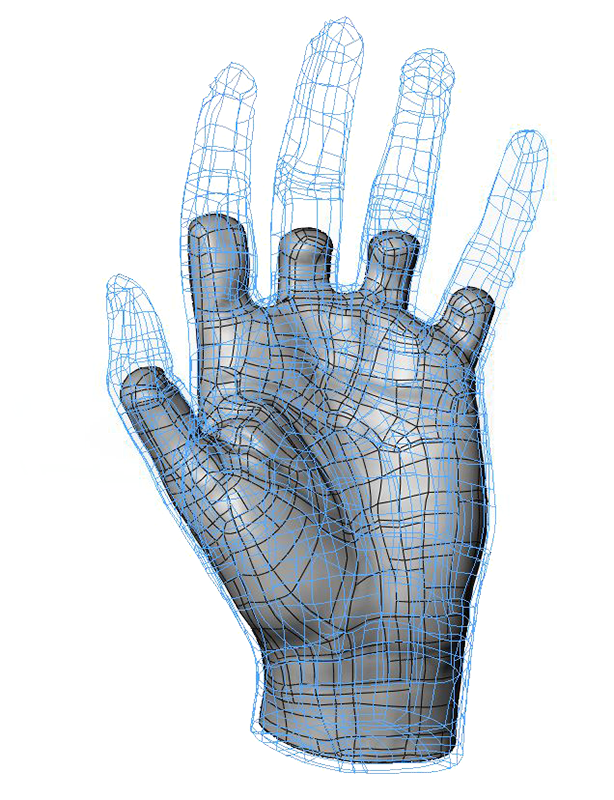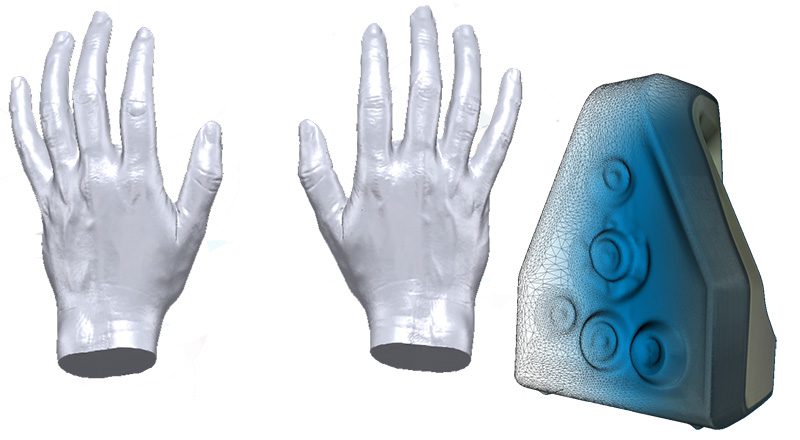 3D Modeling & Reverse Engineering
Skyward can create or manipulate 3D models and perform a variety of reverse engineering functions.
Skyward can create 3D models of scanned objects or modify 3D models provided by customers to accomplish a variety of jobs.  Triangulated scan data can be exported into the format of your choice (i.e., STL, Obj, Ply, VRML, Ascii, PTX and others) or converted directly to CAD for geometry creation, design modification, and/or manufacturing.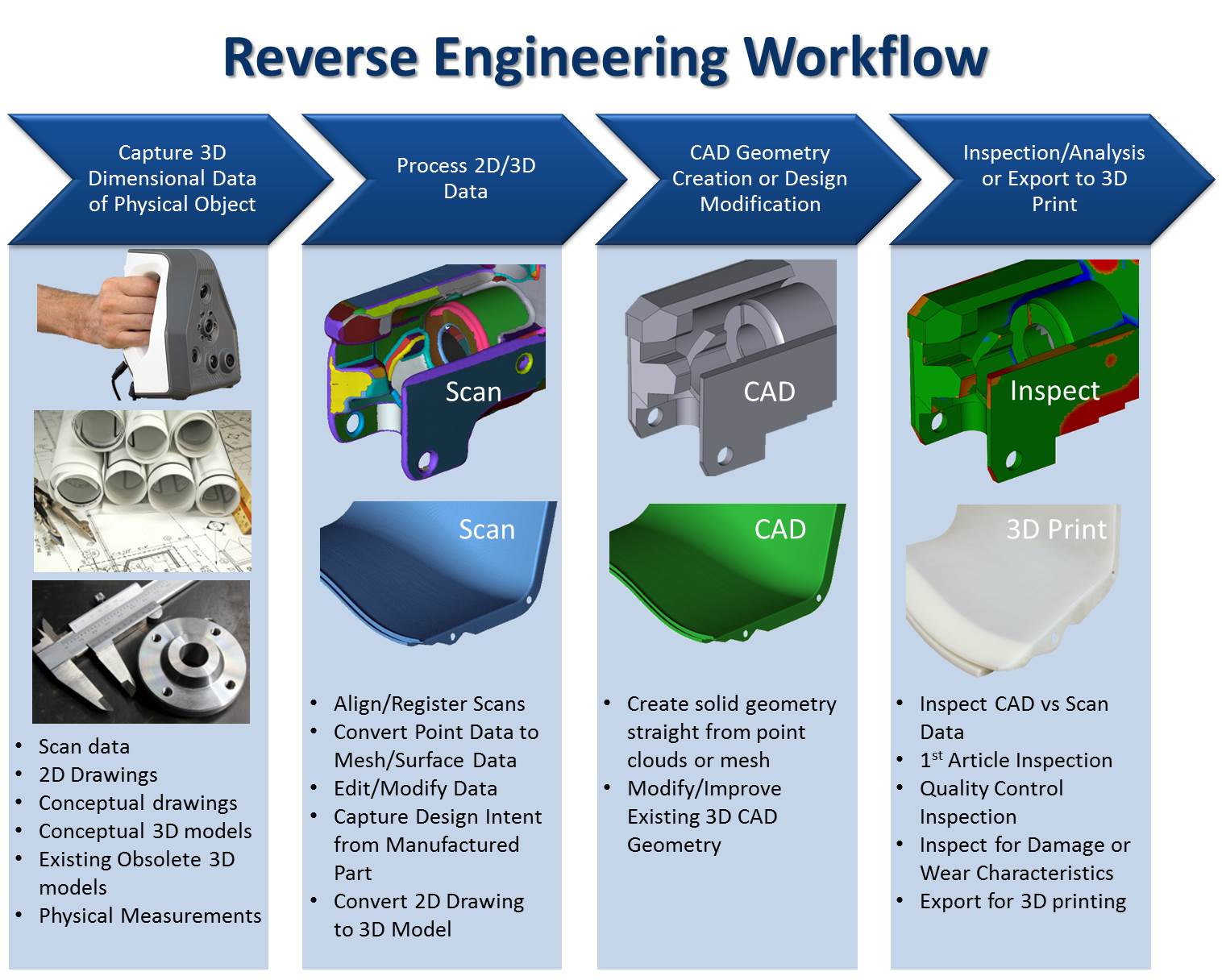 Skyward can produce model outputs in multiple industry standards ((i.e., IGES, STEP, STL, Parasolid, etc.) using CAD tools such as SolidWorks and Geomagic Design X.  Skyward uses Geomagic Design X to live transfer CAD models and features natively into:
SolidWorks

Creo

Siemens NX

AutoCAD

Solid Edge
3D models can even be exported into file formats compatible with most additive manufacturing 3D printers.  Skyward can assist in reverse engineering projects, using scanning technologies to define an object in 3D space and then create a model and drawings which did not exist before.  Scanning and 3D modeling can create an electronic means to archive the information more efficiently and with greater longevity.
Skyward uses reverse engineering to assist customers with a variety of needs: creating 3D CAD models of lost or obsolete designs, converting scans to CAD models, creating 2D Interface Control Drawings (ICDs), and for design modification, including evaluating design integration (form, fit, and function), and updating existing component models or creating new models based upon current designs.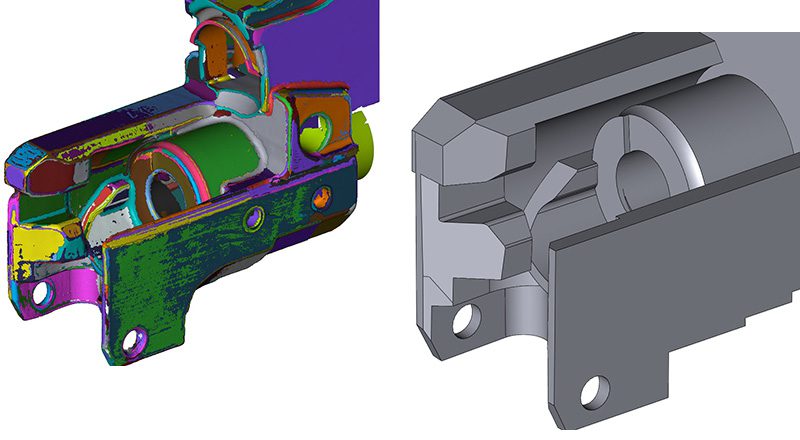 Ongoing Commercial Projects
Our talented 3D team has worked on numerous commercial projects that highlight not only the advanced tools at our disposal, but our ability to scan objects with complicated, organic shapes. We have supported customers involved in the arts, restaurant operation, automotive design and restoration, aerospace applications, firearms development, and machining applications.